HERS Rating
Are you thinking about buying or selling a home? If so, you should pay close attention to the home's HERS rating!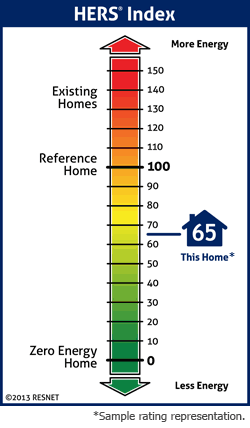 What Is a HERS Home Performance Rating?
Simply put, it is a "miles per gallon" efficiency for your home, based on the overall energy efficiency of your home. It includes a blower door test, a duct leakage test as well as data collected from the homes construction, windows, appliances, lighting, and more.
What Can a HERS Rating Do for Me?
There are several very important reasons to get a HERS Rating on a home:
Opportunities for special mortgage programs that offer lower interest rates, lower closing costs, and other benefits.
Gives you clear and specific information that lets you compare similar homes on energy use
Gives a buyer a marketplace yardstick that measures the benefits of energy efficiency improvements.
Still Not convinced?
For buyers, it means they can afford a larger, more energy efficient home for than a smaller, less energy efficient home. For sellers, the more energy efficient your home is, the easier to sell! In short, buyers can save money in the long run and sellers can get more money at closing!
Energycalcs.net is family owned and operated. It is our pledge that each of our clients be treated with utmost respect and courtesy. We strive to provide fast, accurate calculations at competitive pricing while easing the burden during the permit process. We make it as easy as your A B C's.